GTA: The Criminal Enterprises - The Loop
Play Sound
Airport
Airport
Details

AKA

Airstrip

Added in

V.1.0

Coordinates

29W 22S
Map 2

Environment

Forest
Basic Info
[
]
The airport is located in a large clearing, the runway leads to a cliff edge. In the mainbuilding you will find a side room with a bed that can be used by the player to sleep. There is also a calendar that can be used to save the game. There is also a radio in the mainbuilding. You need to fix the radio before using it. There is a yellow cable leading to the yard, it's been cut, so just fix it by looking at it and doing what it says. Then the radio should work. There are few questions you can ask from the person who answers on the other end. After you have used the radio to call help, you can take the key on the radio, to get to the the building on the left. There you can find climbing gear and few pieces of information f.e the passenger manifest, and an audio recorder etc.
Whilst this location has huge open, flat space to build, as well as Peccary, bananas, fruits and nuts, there is no water source close by, so if setting up camp here, water collectors are a must. It is recommended to collect rainwater to bidons or boil riverwater on the fire and filling up bidons before finding the airport, just in case it's dry season and it doesn't rain. It isn't necessary to set up camp there since there is a bed and the calendar where to save the game. The time you spend at her airport doesn't have to be long. Just do the things mentioned afore. And head to the next location.
After you have called for help, saved the game and found the climbing gear, head to south. Walk until you find an opening with climbing elevator. It will lead you to a watersource where you can wash yourself, and in the worst case scenario drink a little.. There is diving gear in the box on the table, you can use it to dive through to the other side. There you can set up camp, eat, sleep and gather more water. You will find a waterfall, beside the waterfall you will find a way down to another climbing place.

location 28w 22s
Items
[
]
x1 Climbing Equipment(story/survival mode)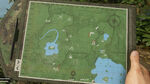 Map 2 (story/survival mode)

Story Items
[
]
Flora
[
]
Below is a list of the most common plants and trees found at this location:
Wildlife
[
]

Collared Peccary


Hyacinth Macaw


Mouse


Rainforest Ants

South American Rattlesnake

Goliath Birdeater Spider


Puma

Brazilian Wandering Spider

Gallery
[
]
Update History
[
]
| Version | Changes |
| --- | --- |
| V.1.0 | New – Map Areas |