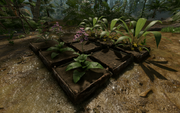 Plant Cultivation is a gameplay feature in Green Hell added during the plant cultivation update V.1.1.0.
Gameplay
[
]
Plant cultivation allows the player to grow their own plants, herbs and fruits. The player will need to harvest seeds or dry flowers and place them in planting boxes. After planting the seeds, the player will need to add water and fertilize to help aid plant growth. Fertilizer is optional, however it will help speed up the growing process.
Once plants have fully matured, the player then can collect resources from the plants. The process of collecting resources will depend on the type of plant grown. Some plants will need to be cut down, the plot then plowed and seeds replanted. Other plants will provide fruits or nuts which the player can collect, reducing the need to resow seeds.
Seeds
[
]
Fertilizer
[
]
Spoiled fruits and animal droppings can be used to fertilize plants to help speed up plant growth. Below is a list of items showing the percentage value of fertilizer they each contain.
Video
[
]
Gallery
[
]
Plant Cultivation blueprints in the Notebook.
Update History
[
]
Version
Changes
V.1.1.0

New plantable items - Seeds, Nuts, Dried Flowers and Sticks
New items - Fertilizer (Spoiled Fruits, Animal Droppings)